Breg - BOA Duel TLSO Back Brace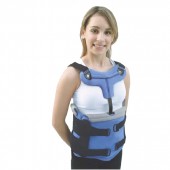 The BOA Duel TLSO provides full-circumferential rigid support from the T2/T3 scapular thoracic region to the sacrococcygeal junction.
It features rigid anterior and posterior panels, a telescoping sternal Y-Bar, and dual lacer compression pads. The BOA TLSO design creates a 3-point force system, consisting of a posteriorly directed force from the sternal and pubic pads, and an anteriorly directed force from the thoracolumbar pad.
The pressure created restricts forward flexion and encourages a hyperextension posture. This posture increases lumbar lordosis and resists lateral and rotary movements of the spine.
Easy application with dual side pulls
Even, progressive compression from proprietary teardrop Lacer Compression System
Easily adjustable for all-day wear
Comprised of breathable Airmesh for maximum comfort
Midline opening in posterior panel eases pressure over the incision site
Latex-free
Indications
The Breg Duel TLSO is ideal for low back pain, sprains & strains, lumbar disc displacement, osteoporosis, disc herniation and degeneration, Post-Op fusion, Spinal Stenosis, Compression Fractures, and Scoliosis.
Goals
Increase compression
Reinforce lumbar region
Decrease anti-inflammatory medications
Decrease pain symptoms
Low profile support
Improve quality of life