PTDial - Tennis Arm Band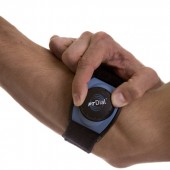 An advanced arm band for the treatment and prevention of lateral and medial epicondylitis (better known as tennis and golfer's elbow).
These conditions can result from any task involving strenuous, awkward or repetitive grip or finger motion.
Such tasks take place at home, work, or leisure or may result from sporting activities. 
Forearm bands or braces are used to compress an area just
below and on either side of the elbow
This reduces pulling forces from muscles fibers at their attachment
to either boney prominence, the lateral or medial "epicondyle"
Developed by Brad Ross, a Canadian physical therapist, PTDial™
uses a quick and easy DIAL ADJUSTMENT to balance
protection & pain control with comfort
Comfortably fits below crease
Easily positioned
Targets the critical tissues
Just dial the amount of relief you require
Ideal for sports, training, everyday use