KE2 Elbow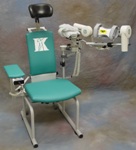 To change Extension or Flexion (straightening & bending of the elbow):
1. Press the STOP button.
2. Press the STOP button again and hold for 5 seconds.
3. AnarrowwillbepointingtotheExtensionvalue.
4. Presstheplus(+)orminus(-)keystogoupordown. Press the Extension Flexion button; arrow will point to Flexion.
5. Press the (+) or (-) keys to go up or down.
To change Pronation or Supination:
1. PressthePronation/Supinationbutton.
2. ArrowwillbepointingtothePronationvalue
3. Presstheplus(+)orminus(-)keystogoupordown. 4. PressPronation/Supinationbutton.
5. ArrowwillbepointingtotheSupinationvalue
6. Presstheplus(+)orminus(-)keystogoupordown. 7. PressSTARTagaintorecalibrate.CPMwillgoto
Download Instructions