DonJoy - TLSO Back Brace Orthosis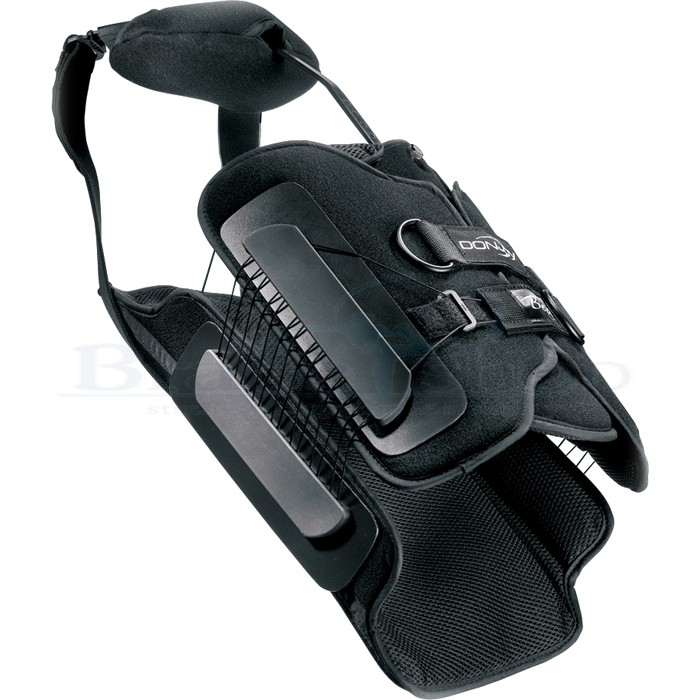 The BOA Duel TLSO is a unique prefabricated orthosis (patent pending) for post-operative, post-traumatic, or chronic spinal pathology. The Duel TLSO provides full-circumferential rigid support from the scapular thoracic region (T2/T3) of the spine down to the Sacroccygeal junction (S1).
The BOA TLSO design creates a 3-point force system, consisting of a posteriorly directed force from the sternal and pubic pads, and an anteriorly directed force from the thoracolumbar pad. The pressure created restricts forward flexion and encourages a hyperextension posture. This posture increases lumbar lordosis and resists lateral and rotary movements of the spine.
Rigid Anterior and Posterior panels:
Restrict forward flexion and trunk rotation.
Are easily removed and thermoformed for custom fit.

Telescoping Sternal Y-Bar can be bent to desired angle for optimal compression.
Easily adjusted to desired height, with lock screw for patient safety and compliance.
Duel Lacer Compression panels provide secure fit and optimal circumferential compression
Quick-release shoulder buckles, dual action pull handles, and hook-loop closures allow
easy doffing and donning
Breathable, interior spacer fabric liner allows heat to escape for added patient comfort
Waist measurement used for easy and accurate fitting
Lifetime guarantee on proprietary lacer compression panels
Indications 
The DonJoy Duel TLSO is ideal for low back pain, sprains & strains, lumbar disc displacement, osteoporosis, disc herniation and degeneration, Post-Op fusion, Spinal Stenosis, Compression Fractures, and Scoliosis.
Goals
Increase compression
Reinforce lumbar region
Decrease anti-inflammatory medications
Decrease pain symptoms
Low profile support
Improve quality of life